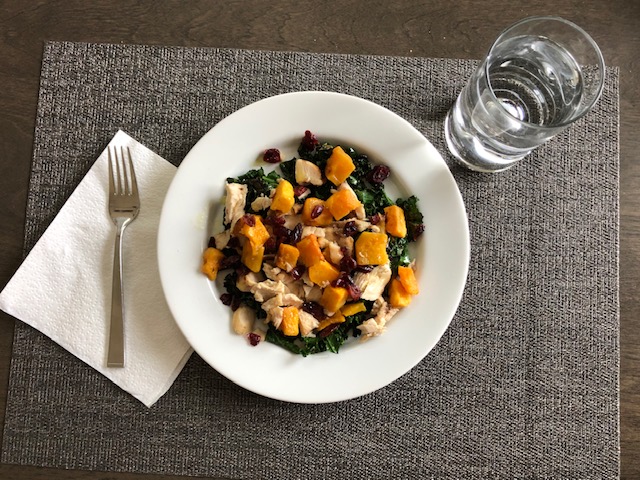 Oh my goodness, I am hooked on this kale salad recipe! Seriously, this is my new favorite lunch. I actually call this recipe Autumn Awesomeness, but I've been eating it all year round. There is something about all the flavors blending so well, crispy curly kale, roasted butternut squash cubes, dried cranberries, grilled chicken, olive oil…and salt. And my mouth is watering once again. This is a super easy recipe with quick clean-up and is packed with nutrition.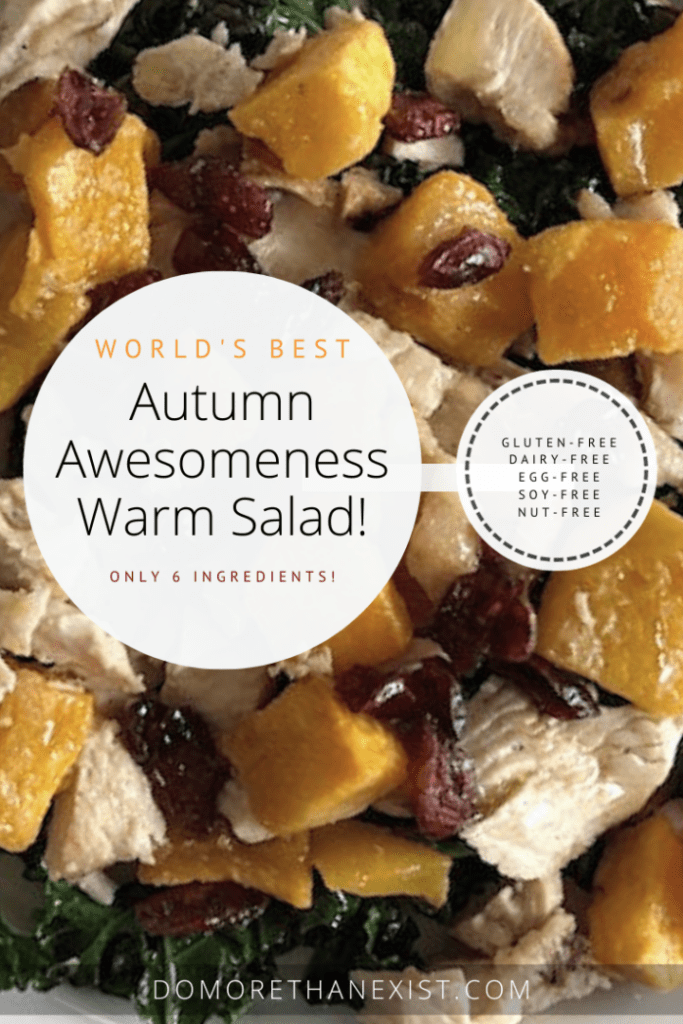 More about kale
Curly kale is nutrient-dense. I don't even know where to start, so I'll just mention the big kale benefits. Per Healthline, curly kale is a huge source of antioxidants, antioxidants fight off free radicals in the body. It is an excellent source of vitamin C and vitamin K. Vitamin K is important for blood clotting. Kale is a source of calcium, potassium, and magnesium! And get this, it even helps us lose weight.
I'm not a big fan of it raw, but I LOVE it crisped up in a pan, especially with a little…do I even say it?…bacon. Be sure to buy organic. The non-organic is has pesticides on it and is one of the Dirty Dozen foods. You can read more about it here. Spend the extra bucks on organic. I know it's hard but here's a post on how to save money at the grocery store, so everything balances out!
What's up with Butternut Squash?
Butternut Squash is my favorite squash. It's easy to digest and has great flavor. This squash is a good source of calcium, potassium, vitamins A, E, folate, and B-6. It helps lower blood pressure, cancer risk, and asthma. Butternut squash is also great for your hair, skin, and immune system.
Roasting it in the oven with a little olive oil and salt is my favorite way to cook it. I've also had it mashed, which is delightful, especially with a little butter or non-dairy butter. Yum!
This is a great recipe for us folks who have Inflammatory Bowel Disease (IBD) like Crohn's or colitis. With all the ingredients cooked, it makes it a lot easier for our systems to digest and absorb the nutrients.
Tools needed for this dish
The number one tool for this dish is the trusty cast-iron pan. It gives the food an extra layer of flavor. Believe me, I've done a lot of research on what pan is the healthiest to cook with. One that won't leach chemicals, aluminum, or Teflon into my food and the cast iron wins every time! It may be heavy, but it's extremely low maintenance. In fact, if you're anemic (iron deficient) it helps put a little iron in your system.
One more thing about the cast iron pan, it's SUPER easy to clean, and no soap is required. Seriously, with no soap, you'll wreck the 'seasoning' of the pan. I highly recommend getting a cast iron pan, even if it's a small one. You can find them on Amazon.

Other ingredients and variations
As for other ingredients, I recommend grilled chicken breast. You can opt for already cooked or make it yourself. When I'm in a hurry I'll buy the already-grilled chicken strips or a rotisserie chicken. Or if I'm in a BIG hurry I'll just microwave gluten-free chicken nuggets.
The piece that brings it all together for me is the olive oil. I use a little bit in the pan for the kale, and then at the end to finish the dish. I absolutely love the flavor it brings to each ingredient. My favorite, hands-down olive oil is California Ranch Olive Oil. It's 100% olive oil. With that said, be sure you get an olive oil you trust is 100%. We don't need no stinkin' canola or vegetable oil fillers. For more on oils read my post about omegas.
Variations to the recipe. This is such a versatile recipe that any protein would work: brats, strips of steak, shrimp, or bacon. Adding a thinly sliced red onion also adds more depth. Enjoy!
On to the recipe!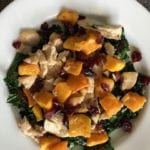 Print
Autumn Awesomeness
This is an amazingly healthy yet tasty dish for lunch or dinner. The chard kale and roasted butternut squash complement each other, while the dried cranberries make it pop. This is gluten-free, dairy-free, egg-free, soy-free, and nut-free!
Equipment
small cast iron pan

baking sheet with parchment paper

knife and cutting board
Ingredients
3

Organic Curly Kale Sprigs

1

c

Baked cubed Butternut Squash

4

Strips of grilled chicken or 4 GF Chicken nuggets

2

TBSP

Dried Cranberries or Cherries

3

TBSP

Olive Oil

1TBSP for frying kale, 2 TBSP for topping at the end

1

pinch

Salt
Instructions
Heat cast iron pan on low.

Wash thoroughly, pat dry, remove stalks, and chop. Put chopped kale into the pan. Then add 1 TBSP olive oil. It might get messy and splatter if kale is not dried off. Be careful.

I pre-roast an entire cubed squash. 350 for 40 minutes. Just toss a little olive oil and salt in before baking. Tip: Costco usually has raw cubed squash. Do not use frozen squash! You can also peel and cube your own squash.

After kale is charred and well cooked, wrap a dish towel around the cast iron panhandle and put kale on a plate.

Take leftover chicken, pre-cooked grilled chicken (Costco), or Gluten-free chicken nuggets. Microwave for the allotted time, or cook in your cast iron pan to warm. When done, put on top of kale.

Add squash to kale and chicken. Sprinkle dried cranberries on top. Drizzle olive oil and add a pinch of salt. Delish!

For added flavor, add thinly sliced red onion, roasted pecans, or crispy bacon!
Notes
Calories may vary on chicken type and the amount you use. 
Be sure to check out my other simple and delicious recipes!
All are gluten-free and dairy-free.
Simple Bacon-Wrapped Chicken Leg Recipe
Simple Game Day Sloppy Joe Sandwiches

By CT Copyright © 2023 Do More Than Exist. All Rights Reserved.