Salmon is one of those fish that can be prepared in various ways. It's so versatile and delicious, not to mention, good for you! I've eaten salmon baked, broiled, grilled, poached, and pan-fried. What's my favorite? For me, it depends on the time of year. And this time of year is a great time to use a skillet to cook your fish. Even though it's in the dead of winter this fish will taste as if it came off the grill.
My salmon in a skillet recipe is super simple, clean, and easy to make. It only has three ingredients: olive oil, salmon, and salt (seasoning of your choice). That's it! Unless you have a fish allergy, this fish is good for everyone.
What's salmon got to do with it?
Before we get to cookin this salmon in a skillet, let's look into this delicious fish. In the summer of 1995, my sister and I drove up to Alaska and spent the summer in a fish processing plant. Well, most of the summer. It was an amazing experience! We camped on the beach, worked in yellow slicker gear, and ate salmon cooked in foil, dressed with butter…baked over the campfire I must say. Besides eating halibut cheeks, this salmon was AMAZING!
Jump to Recipe
What I learned at the fish processing plant.
While at the fish processing plant, I learned a great deal of knowledge. For one, I learned that fish eyeballs can stick to you. The second lesson I learned was that you could make a box of macaroni and cheese in the microwave. Yes, it's true! The third thing I learned was how to clean a fish! And probably the most important piece of knowledge I learned was the different types of salmon that I had to sort on the sorting table.
During this particular season, we had five types to sort: the King or Chinook, the Sockeye or Red, the Coho or Silver, the Chum or Dog Salmon, and the lovely Pink salmon. Each had its distinct features and, yes, we had to smell them. If the fish didn't smell good, it got a bad grade and was probably sent to a pet food plant…I don't really know.
Alaska salmon the best?
Good question. I have no idea. Salmon aren't just in Alaska. They are in the Atlantic Ocean and even some freshwater lakes and rivers. For instance, every fall we go fishing in Michigan for Steelhead. They are not as tasty as Sockeyes, but they still have great benefits.
What about the health benefits?
The health benefits of salmon are amazing! They are filled with good fat. This kind of fat won't make you fat. The omega-3 fatty acids in salmon help reduce inflammation in your body. And when inflammation is reduced, the less likely you'll get sick, and I'm not talking colds, I'm talking about the big stuff. It's also really good for Inflammatory Bowel Disease (IBD) like Crohn's or Colitis. Here are some other great benefits:
It's high in vitamin D!
Helps improves your bone health.
It's good for your heart.
Great for brain function…hello memory!
Helps us focus better.
Good for your weight.
High in B vitamins.
Good source of potassium.
Gives us a boost in hair and skin health.
Okay, that's salmon in a nutshell. I didn't cover everything about his amazing fish, just gave you a taste (no pun intended). Let's get to the salmon recipe!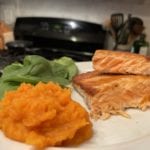 Print
Skillet Salmon
The is hands down one of the best ways to make salmon. Crusty outside, flaky inside, and served with easy mashed sweet potatoes. This recipe is super simple and amazingly delicious. One of my favorites!
Ingredients
1

fillet

Salmon

Take the skin off if it isn't already, check for bones.

1

tbsp

Olive Oil

Put this in the pan while it's heaing up

1

tbsp

Lemon Pepper Seasoning or Salt

You can use any seasoning of choice.
Instructions
Warm up the cast iron pan on medium heat and put the olive oil in the pan.

Pat the salmon dry with a paper towel. This will prevent splattering when salmon is placed in the pan.

Gently place salmon in the cast iron pan and shake your seasoning on top.

Set timer for 4 minutes. Look for HALF of the salmon to turn a light pink.

Flip salmon over after the 4 minutes and let cook for another 2 minutes.

After 2 – 3 minutes, removed salmon from the pan. Turn off the stove.
Notes
The calories are based on the salmon and the olive oil. This goes great with mashed sweet potatoes. Simply bake the sweet potato at 350 degrees for about 50 – 60 minutes. When they are soft, take them out and peel the skin off. Place in the bowl and mix them with butter. Add a pinch of salt and dive in!
Why Cast Iron?
A cast-iron pan really does make a difference, plus it's SUPER easy to clean, no soap required. Seriously, no soap, you'll wreck the 'seasoning' of the pan if you use soap. I highly recommend getting one, even if it's the small one. I use cast iron for everything! You can find them on Amazon.
Wrapping salmon in a skillet up
The wild-caught salmon is preferred over farm-raised. It's just best to eat "organic" fish versus ones that are raised in a fish tank. Would you rather eat a fish from a large body of water or one from a small fish tank? Think about that for a minute.
Whether you want a different protein, want to balance out the weekly menu, or if you're looking to get healthier, salmon is here to serve you. You can also check out my pan-fried walleye recipe. Enjoy!
Be sure to check out my other simple and delicious recipes!
Simple Bacon-Wrapped Chicken Leg Recipe
Simple Game Day Sloppy Joe Sandwiches
By CT Copyright © 2021 Simplify Firefly. All Rights Reserved.