Nachos no more? If you have to be dairy-free I bet you said goodbye to nachos. I sure did. I also said goodbye to cheese pizza and many other things, but nothing can replace a good plate of nachos. Thanks to some amazing people who feel for us dairy-free folk they have created some amazing dairy-free alternatives.
Jump to Recipe
Nacho History
But let's talk nachos. There is nothing like watching a game or coming in from a fun-filled day of summer than popping in a tray of chips and cheese or stacked nachos. Making chips and cheese is one of my fond summer snacks as a kid…when I could eat dairy. The tips of burnt chips with melted cheese and the right amount of taco sauce hit the spot in my taste history.
But where did they come from? According to Wikipedia, nachos were created in 1940 by Ignacio "El Nacho" Anaya. He served up a batch in his restaurant to a few women that wanted a different kind of snack. It was on that day that nachos were born! And yes, the dish is named after its founder.
No more nachos…
After summer fun snacks, I went to college…and the bars. A plate of nachos was to satisfy any bar babe. My friends and I would order up a dish, gobble it down, then…well…it was in college where I learned I was lactose intolerant, whey intolerant too! Needless to say, if I had nachos, you wanted to stay far from me!
Along came parenthood, and I was jonesing for nachos after a day filled with Lego building and football. Because of my intolerances, I completely avoided any dairy-filled product. I ate pizza with no cheese…which isn't that bad. And nachos was a big no-no. It had been 23 years without this delicious snack. That's right folks, I was nacho-free for 23 whole years!
Dairy-free cheese to the rescue!
Thanks to many food manufacturers we now have many dairy-free options. I have tried a lot of them and they all have their perks, but my absolute favorite is the Violife brand. They don't use pea protein, which can cause a number on people if you know what number I'm talking about.
With this newfound dairy-free cheese, I immediately had 'cheese' back in my life. I seriously didn't realize how much I missed it until I had it. Joy reentered my being! Granted I can't order nachos at a restaurant (because they don't have the fake cheese), but I can make them at home!
Wrap up before the recipe
My fake-cheese nachos are so delicious you can't even tell they have dairy-free cheese on them…ask my husband who can eat dairy. We make this favorite dish for main meals at least once a week. On camping trips, this glorified chips and cheese snack makes the menu all the time. It's SO easy and filling! This recipe checks all my boxes: gluten-free, dairy-free, quick, delicious, easy to make, and little cleanup.
Plus you can build this plate up as much as you want! Add whatever suits your fancy. This is sure to please anyone.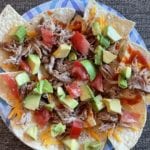 Print
Super Easy + Yummy Nachos
These delicious nachos are a quick solution to meal on the fly. Easy to make, quick clean-up, a people-pleaser.
Equipment
Microwave, Air-Fryer, Oven, or Toaster Oven. Any will work!
Ingredients
2

handfuls

Your favorite plain tortillia chip

Any tortilla chip works, I persoanlly like restuarant style.

1/2

cup

Dairy-free cheddar cheese

My favorite brand is Violife.

3

tbsp

Taco sauce

Again, use your favorite. I like Ortega Original.

3/4

cup

Pulled pork

We get the premade pulled pork from Costco or Del Real Slow-cooked Pork Carnitas. We have also used left-over pulled pork that we smoked. Do not use the saucy pulled pork.

1/2

cup

Avocado

Make sure the avocado is ripe but not too ripe. It should have a medium firmness when you lightly touch it.

1/2

cup

Tomato chopped

Any kind of tomato will do.
Instructions
Warm up the pulled pork in the microwave. If you got store bought follow their instructions on the package. We like Del Real Slow-Cooked Pork Carnitas. At the current time, you can get this at Costco. Any NON-SAUCY pulled pork will work.

Preheat oven or toaster oven to 350 degrees. You can use a microwave or air-fryer too. When I'm in a hurry I just do the microwave.

Depending on your cooking tool, spread your chips either on a paper plate (microwave only) or a cookie sheet with foil. I put parchment paper ontop of the foil…it's a bit healthier than on foil.

On top of the chips, sprinkle as much cheese as you like. For you dairy eaters, my family prefers the thick cut shredded cheese. For non-dairy I prefer Violife cheddar shreds over other brands.

Drizzle the taco sauce over the cheese.

Spread on as much pulled pork as you would like.

Bake or put in the microwave.

For Baking, keep an eye on it. It's usually done in 5 minutes.

For microwaving, start out with 45 seconds, then check it, and add another 30-40 seconds for cheese to melt.

Chop up the tomoto and avocado, then sprinkle on top!

Feel free to add any of your favorite toppings such as peppers, salsa, onions, cilantro. Enjoy!
Notes
The calories are a guesstimate. Based on a medium-size paper plate with 1/2 an avocado. Remember avocado may be high in calories, but it is super good for you! Don't be afraid of it. 
Enjoy your dairy-free nachos! Be sure to look in your specialty grocery for dairy-free cheese. I hope you appreciated this recipe. And, yes, I did make nachos after I wrote this post. So good!
Be sure to check out my other great recipes!
All recipes are gluten-free and dairy-free recipes.
Simple Bacon-Wrapped Chicken Leg Recipe
Simple Game Day Sloppy Joe Sandwiches
By CT Copyright © 2021 Simplify Firefly. All Rights Reserved.