When it comes to favorite cookies, the chocolate chip cookie is the best. The gentle crisp on the outside and soft center is the perfect texture to satisfy anyone…in my opinion of course. Oh, and then you get a chunk of chocolate that is slightly hard but surrounded by dough…oh, so good from a texture point of view.
However, when I was told I couldn't eat gluten anymore due to an Inflammatory Bowel Disease (IBD) my heart sank, to say the least. So if any of you have Crohn's or colitis, I know you understand what I'm talking about. My pleasure of baking and having a fresh cookie out of the oven was a thing of the past. How am I going to live? Is there even a gluten-free dairy-free chocolate chip cookie recipe?
After I let that devastating news sink in, I was more determined than ever to recreate my guilty pleasure of chocolate chip cookies but gluten-free style. To the store I went to find gluten-free flour. I must say I was not only confused about all the flours but I was a bit sticker-shocked at the prices, which will do my body good because I won't make them as often, but when I need a fix I'm making the da*n cookies.
Take note, I wrote a post that includes this recipe. If you happened to missed it and want to catch up on How Cookie Dough Gave Me Super Powers you'll want to check'r out. It talks about stress and what I did to treat it.
Gluten-free Flour
This can be overwhelming. And I did get overwhelmed. There is so much information on the internet I honestly am not going to reproduce it, but I will give you some sources to check out. If you want to learn more about different flours Healthline has a good article. If you want to make your own blend, I recommend Sarah Bakes Gluten-free. She's got some great recipes I've had before too.
As I said, gluten-free flour is not a spitting image of 'normal' flour, but it does the trick to satisfy your fix.
It's important to note, that there are many gluten-free pre-made chocolate chip cookie mixes at the grocery store. I've tried a lot of these, and they're okay. If you look at the ingredients in these mixes you'll find that sugar is the first ingredient! And as with any ingredient list, the first ingredient is the most abundant ingredient, and so forth. For my taste, those mixes are too sweet and there are some unwanted ingredients in them too, like soy. Be aware of your digestive triggers that throw your system off. With that said, in the refrigerator section, there is a premade reduced-sugar chocolate chip cookie that is quite good when you don't have time to bake your own. It's Sweet Loren's Gluten-Free Chocolate Chunk. Here is her website to check things out.
Products I use for this gluten-free dairy-free chocolate chip cookie recipe
To keep this recipe low on inflammation and allergens at bay I use Enjoy Life Mini Chips. These are super good. We like them more than the normal kind. They're great in brownies, pancakes, melted over rice crispy treats, or on a spoon full of peanut butter! Great. Now I need to go eat some.
To make it easy on me with the gluten-free flour I use King Arthur's Gluten-Free Baking Mix. Note the MIX. They do have the flour, but you'll want the mix. Watch out for this.
On to the gluten-free dairy-free chocolate chip recipe!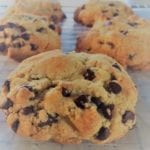 Print
Christy's Gluten-Free Chocolate Chip Cookies
Gluten-free, Dairy-free, Soy-free chocolate chip cookies
Equipment
Glass mixing bowl

Handmixer

Measuring cup

Measuring spoons

Cookie sheet

Parchment Paper

Wooden spoon
Ingredients
1/2

cup

Coconut Oil

do not melt

1/4

cup

Brown Sugar

do not pack down

1/4

cup

Cane Sugar

1

egg

Prefer organic egg

1

tsp

vanilla

1

tsp

Apple Cider Vinegar

1

cup

King Arthur's Gluten-Free Baking Mix

Baking mix. Use a heaping cup.

1/4

tsp

Salt

1/2

tsp

Cinnamon

1/3

cup

Enjoy Life Semi-Sweet Chocolate Chips Mini

These are allergy-free, read package.
Instructions
Preheat oven to 370. Tear a sheet of parchment paper and put it over the cookie sheet.

Add the coconut oil, brown sugar, and cane sugar to glass mixing bowl and mix with hand mixer until mixed together

Add egg, vanilla, and apple cider vinegar. Mix until together

In a separate bowl, add a heaping cup of King Arthur's Gluten-Free Baking Mix, salt, and cinnamon. Hand mix with a fork.

Gradually combine both bowls while mixing with the hand mixer. Mix until all together.

Fold in Enjoy Life Chocolate Chips Mini with a wooden spoon.

Scoop dollops of dough about the size of the wooden spoon and place on the cookie sheet. Allow 1-2 inches between dollops.

Place the cookie sheet in the oven and set the timer for 11 minutes.

While cookies are baking, clean-up the dishes. Please don't eat raw cookie dough due to the egg. We don't need tummy aches.

When cookies are done, slowly transfer them to a cooling rack if you have one. Otherwise, remove the cookies from the cookie sheet in a minute.
Notes
Calorie count is a guesstimate for one cookie when baked. It depends on the size of the cookie. Also the cost of the batch of cookies is also an estimate.
Be sure to check out my other sweet treats!
All are gluten-free and dairy-free. Simple and delicious.
Gluten-Free Molasses Cookies with Peanut Butter
The BEST Gluten-Free Granola Bars EVER!
By CT Copyright © 2020 Simplify Firefly. All Rights Reserved.