Avocado got your taste buds? There are many things you can do with this amazing fruit. Due to my IBD (Inflammatory Bowel Disease) I have had to simplify my diet. So, when I make a meal I keep things as simple as possible. With avocados, I usually just put a shake of salt on them and add them to my meal, but lately, I've been more adventurous and have been making guacamole and now pesto!
This is actually my new favorite find. With normal pesto, there are ingredients in there that are hard for me to digest, like dairy, nuts, and various spices. Yet, my recipe only has six ingredients without dairy or nuts. Honestly, I can't tell the difference. And it's healthy for you!
Jump to Recipe
First off what's so good about avocado?
Avocado is easy to digest, so if you have IBD, colitis, or Crohn's disease, avocado is your friend. It's a great source of potassium (more than a banana), folate, magnesium, B Vitamins which include: B2, B3, B5, B6, and it has Vitamin C, Vitamin E, and Vitamin K. This fruit also is a great source of healthy fat. The fat avocados have isn't going to make you fat, so don't be afraid to eat it. They have monounsaturated and polyunsaturated fats; these are good fats.
They also are high in fiber which is also good for us IBD people. Many fiber foods are extremely taxing on our intestinal tracks.
Overall avocados help people get healthier! They help your eyes, assist in weight loss, help make you feel satisfied, ease arthritis symptoms, prevent cancer, and help your body absorb nutrients…which is hard for people with Crohn's or colitis.
How to eat them
If there is one thing that turns my son off about avocados it's how slimy they are. Yeah, it's kind of gross. This is where we can be creative. Avocados are great in smoothies if you're a smoothie person. Yet, guacamole is probably the most popular way to eat them, especially around Super Bowl and Cinco de Mayo. However, avocado pesto is on the rise. Move over guac, here comes the pesto!
Non-inflammatory dream
Why not make a sauce that is super good for you? Combine all these awesome benefits of avocado and mix them with garlic, basil, lemon, olive oil, and salt. That's all there is, people. Six ingredients to play with and to make it your own.
Hold up there friends. This isn't just for gluten-free or keto pasta, you can use it as a sandwich spread! The longer you blend this recipe the more creamer it will get. Oh my goodness, it's such a great substitute for mayo or 'dressing' as some people say. Heck, you could probably add more oil and make it a salad dressing! Endless ideas with avocado.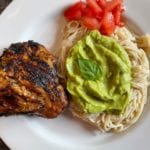 Print
Avocado Pesto Sauce & Spread
Nut-free, Dairy-free, Gluten-free Avocado Pesto Sauce is my new favorite find. Only 6 fresh ingredients! Easy to make, tastes amazing, and shines in every dish. Healthy for you too!
Ingredients
1.5

fruit

avocado chopped

2

pinch

salt

2

cloves

garlic

Large cloves. If you like a lot of garlic add more or less if you don't.

4

leaves

basil

Large leaves.

2

tbsp

lemon juice

2

tbsp

olive oil
Instructions
Gather all your ingredients so they're ready to go.

Chop your avocado. You want to make sure the avocado is ripe. They should not be rock hard. You want them to have a bit of give. Look for darker skins, not the green skins.

Place in the food processor and put your 2 pinches of salt in.

Give your galic cloves a rough chop, remove the skin first! Add you lemon juice, chop your basil leaves, and add your olive oil. Put them in the processor.

Process all the ingredients. For a chunker pesto, only blend for a short while. For a creamier version blend longer, like I did for this one. All done!

Eat it as the main meal or serve as a side…like with a piece of smoked chicken thighs and fresh chopped tomatoes. YUM!
Notes
The serving size is about 2-3 tablespoons. The calories are based on serving size. The entire calorie count for the whole recipe is estimated to be 589 calories. 
This recipe will keep for 24 hours. If there are leftovers, store it in an air-tight container in the refrigerator. If the pesto turns brown, discard it. 
Totally makes the sandwich. Enjoy!
Hope you enjoy this amazing recipe. I know your body will love you for it.
Be sure to check out my other simple and delicious recipes that accent this avocado dish!
Simple Bacon-Wrapped Chicken Leg Recipe
By CT Copyright © 2021 Simplify Firefly. All Rights Reserved.