If you missed my post about food combining you'll want to check'r out. This amazing steak recipe I'm about to give you goes in line with food combining. You might think to yourself, "Food combining matters? It's all going to the same place anyway. What gives?"
When I was a kid, eating with my grandparents was torture for me. Not only did I have to eat everything off my plate, including the extra ketchup…yes, with a spoon, down the hatch it went; I had to watch my grandparents pretty much swirl everything on their plate and eat it. As a kid, I didn't want my peas to touch my mash potatoes, or for Pete's sake my jello to touch my chicken pot pie! This kind of food combining is not what I'm talking about, but it gives you a visual.
What happens in the belly
Let's take steak n potatoes, a classic meal. It's a meal that has withstood the decades. Many would call it a 'healthy' meal. To the eye, it is, but to the stomach not-so. Combining a protein with heavy-duty starch-like buttery mashed potatoes spoils in your stomach. Starchy sugars don't mix well with hard-core proteins. Ew! With spoiling in the stomach comes indigestion, bloating, gas, burping…sluggishness.
If you want to feel better after a steak dinner, change your side to a low-starch veggie, like salad, broccoli, green beans, or grilled summer squash. I know garlic mashed potatoes with steak is OH SO YUMMY, but if you're feeling icky after a meal like that it could be the food combo. Hold up, I'm not telling you to stop eating that combo, not at all. All I'm saying is that you might want to mix it up every once in a while. Just letting you know what I've learned. If you want a download of my food combination aid, you can get one here at freebies. It gives you examples of what to eat with what, along with a list of foods, and when to eat fruit. I personally tape mine to my kitchen cupboard.
Ingredients needed for this dish
With this healthy steak recipe, I use a cast-iron pan. It really does make a difference, especially if you can't cook on the grill. I highly recommend getting one, even if it's the small one. You can find them on Amazon.
As for other ingredients, I used McCormick Grill Mates 25% Less Sodium Montreal Steak Seasoning. This has amazing flavor and it's gluten-free! It also comes in regular sodium and 25% less sodium. Delicious!
I also use Kirkland's Frozen Organic Green Beans. Love these things. They come pre-washed. And for my other side, I simply visit the frozen veggie section at the grocery and pick up a steamable veggie dish. This is actually my new go-to when I'm running low on time.
On to the healthy steak recipe!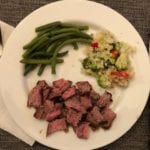 Print
Better Belly Steak
Want an amazing steak with loads of flavor? Try this steak recipe for a quick and easy meal that tastes like it came from a fancy restaurant.
Ingredients
1

steak

Strip Steak, highest grade

1

tbsp

McCormickGrill Mates 25% Less Sodium Montreal Steak Seasoning

1

tsp

salt

1

cup

fresh or frozen organic green beans

Washed and trimmed

1

box

Green Giant SimplySteam, Riced Cauliflower Italian Style

In frozen section at grocery
Instructions
Take yourcast iron pan, put it on the stove, and preheat on high for 4-5 minutes, oruntil very hot (wink).

Pat your steak dry with paper towels. In this recipe I used Strip steak, highest grade.

Sprinkle McCormick Steak Seasoning, this is gluten-free!

Put alittle salt in the bottom of your hot cast iron pan.

Place the steak in your hot pan. It might get a little smokey, so make sure you're cooking in a well – ventilated space…I do not recommend a tent. I personally turn my kitchen vent on and crack a window.

In the next one to two minutes, carefully flip the steak placing it in a different spot on the pan. Cook for another 30 seconds to 1 minute. Continue turning and flipping the steak until it's cooked to your desired doneness.

To be on the safe side, use a meat thermometer and insert it in the thickest part of the steak. Here's a quick guide on temperatures.

·        Medium-rare:135º

·        Medium: 140º

·        Medium-well: 145º

Place the steak on your plate and let it rest for 10 minutes before cutting into it. Keep in mind the steak may continue to cook after it has been removed from the pan.

While steak is resting, take your green beans and put them in a sauce pan with an inch of wate on medium heat. Cover the pan. with lid. Cook 5 minutes and check. Keep checkingevery couple minutes. Cook to desire. Do not burn!

While green beans are cooking. Grab your box of Green Giant SimplySteam, Riced Cauliflower Italian Style and follow the microwave instructions. Stir after it has been cooked.

Dish up the steak, green beans, and cauliflower rice on your plate. Salt lightly if desired. Enjoy!
Notes
Calories are an estimate. 
Be sure to check out my other simple and delicious recipes!
All recipes are gluten-free and dairy-free recipes.
Simple Bacon-Wrapped Chicken Leg Recipe
Simple Game Day Sloppy Joe Sandwiches
Easy Dairy-Free Nachos with Simple Ingredients
By CT Copyright © 2020 Simplify Firefly. All Rights Reserved.