There is something about molasses cookies that I crave. When I grew up, every Christmas my grandma would bake molasses cookies. Her cookies were about the size of a silver dollar and so addicting! My grandma would always have them neatly packed in a wax paper-lined cookie tin. The cookies would literally melt in your mouth. As I grew older and found out she'd use grease from the meal before, I thought about making a healthier kind of molasses cookie, a gluten-free molasses cookie recipe!
Jump to Recipe
How Molasses Peanut Butter Cookie came to be
There is nothing more fun, and sticky, than messing around in the kitchen with molasses. I wanted a cookie but was having trouble figuring out an egg substitute. Since eggs are a trigger for my body, it's been a challenge coming up with an egg substitute that works for the particular recipe you're working on. When you have a specialty diet, you have to be creative and experimental. So that's what I did and discovered molasses and peanut butter marry well together. The gluten-free molasses cookie recipe was born! I can now say egg-free too.
Molasses Benefits
Molasses was first around in 1582, some say 1600. In other words, it's been around. There are many health benefits to molasses. On some mornings I will actually drizzle molasses on my peanut butter toast just to get the added molasses advantage.
A little touch of molasses has a big nutrition punch! What exactly is in blackstrap molasses? You'll find it is a source of iron, calcium, magnesium, vitamin B6, potassium, copper, and selenium (antioxidant). Needless to say, blackstrap molasses is good for your red blood cells due to its iron content; and because of its potassium volume, it also helps lowers blood pressure. Get this! In case you missed it, blackstrap molasses contains calcium which we all know is good for our bones. And because it contains B6, blackstrap molasses can fight off stress. Blackstrap molasses may even help us folks who have Crohn's disease and colitis. These are just a few benefits that it has. More benefits can be found here.
What kind of molasses to buy?
To get these great benefits from molasses, you must get blackstrap molasses. Light molasses and Dark are not the same as Black. Blackstrap is the darkest type of molasses and it is the most concentrated form, hence, it has the most health benefits. After all, molasses is sugar. From what I understand it's the leftover juice from sugar cane after they crush it to get sugar crystals. They boil it, then boil it again, and then again.
*Warning, if you eat too much of this dark syrup, you'll probably get diarrhea. Know your limits.
Peanut Butter Benefits
Peanut butter has been around since only 1904. It was introduced at the St. Louis World's Fair. It was used as a protein source for World War I and World War II.
Not only is peanut butter a good source of protein, but it also contains omega-3 fats. It is a good source of vitamin E, vitamin B6, manganese, and magnesium. Believe it or not, it also has copper in it!
Peanut butter is good for your heart; it can help reduce the risk of diabetes, and it even has some anticancer properties.
What kind to buy?
The best kind of peanut butter to buy is organic. Organic peanut butter doesn't have any added trans fats, sugars, or other hydrogenated oils. When those extra things are added to peanut butter, there are no health benefits; in fact, it's the opposite. Hydrogenated oils increase omega-6s, and when you get too much of a good thing (omega-6) it makes it bad for your body and may cause weight gain along with inflammation which could trigger all sorts of digestive issues. Yikes!
Spend the extra money and buy organic! Organic peanut butter is simply organic peanuts and salt. Please read the labels on your peanut butter, it makes a huge difference. I personally like Costco brand, Kirkland Organic Peanut Butter. Plus, I store my peanut butter in the refrigerator.
The gluten-free molasses cookie recipe awaits!
What happens when you put molasses and peanut butter together? Talk about a B6 and magnesium powerhouse! The flavors work and complement each other. Your mind might be saying "Ew", but your taste buds beg to differ.
Because my diet is limited, I made these cookies with gluten-free flour. They are also egg-free, soy-free, and dairy-free. They do contain peanuts. Baking egg-free can be tricky. One great substitute for eggs is…you guessed it…peanut butter!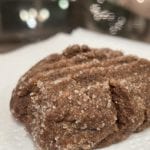 Print
Gluten-free Molasses Peanut Butter Cookies
Add some depth to your molasses cookies with a little bit of peanut butter!
Cost
$5 for recipe ingredients and measures
Equipment
Bowl

Mixer

Cookie sheet

Parchment Paper
Ingredients
1/2

cup

Coconut oil (solid form)

You can use shortening as a substitute.

1/2

cup

Sugar

White grandular or Organic Sugar Cane works

3

tbsp

Blackstrap Molasses

3

tbsp

Coconut Milk

You can substitute any kind of milk alternative

3

tbsp

Organic Peanut Butter

Heaping tablespoons, you can try it with Almond Butter or even Tahini.

1

cup

Gluten-free flour

Heaping cup of Gluten-free flour

1

tsp

Baking Soda

1/4

tsp

Cloves

1/4

tsp

Ginger

1/2

tsp

Cinnamon

1/4

tsp

Salt (optional)
Instructions
Preheat oven to 350 and prepare the cookie sheet with a sheet of parchment paper on top.

Mix coconut oil, sugar, peanut butter, and coconut milk.

Add blackstrap molasses and mix.

In a seperate bowl stir flour, baking soda, and spices.

Gradually combine dry ingredients to wet with mixer. The dough will be thick. If it looks dry add a splash of coconut milk, if it looks wet add a tbsp of gluten-free flour.

In a small bowl, put in 1/2 cup of sugar.

Make small 1 -1 1/4 inch balls and roll them in the sugar. Place them on the cookie sheet an inch or so apart.

Gently push the bottom of a fork into the cookie so it makes small groves.

Put the cookie sheet into the oven and bake for 8-10 minutes.

Let cookies cool for 10 minutes.

For an added bonus mix 2 tbsp peanut butter with 1/2 tsp of coconut oil and 2 tbsp of powder sugar. Put in the microwave for 20 seconds then stir, put it back in the microwave for another 15 seconds and stir. Then put a dollup on top of the baked cookie…kind of like a frosting.
Notes
The calories and price of the cookies are an educated guess. 
I hope you enjoy this tasty nutrition-packed gluten-free molasses cookie recipe. Happy baking!
Be sure to check out my other sweet treats!
All are gluten-free and dairy-free. Simple and delicious.
The BEST Gluten-Free Granola Bar Recipe EVER!
Christy's Gluten-Free Chocolate Chip Cookies
By CT Copyright © 2020 Simplify Firefly. All Rights Reserved.