Hold on to your apron for this amazing gluten-free no-bake cookie recipe with coconut! It's actually one of the healthiest cookies for school lunches and after-school snacks! They taste so good, you wouldn't even know it. These are easy to make and are gluten-free, dairy-free, egg-free, and soy-free. Learn the benefits of coconut, peanut butter, and more!
Jump to Recipe
Gluten and cookies
Cookies are one of my absolute favorite food. So when I had to change my diet to gluten-free, you better believe I got a little depressed! Let's face it gluten-free cookies are not the same as chewy gluten-filled cookies. But we gluten-free consumers need to work with what we got.
What does gluten even do in cookies?
What gluten does for cookies, is that it helps hold things together. There have been countless attempts in making the perfect gluten-free cookie. Problems arise when it crumbles in your hand and clumps up your mouth along with an occasional crumb going down the wrong pipe. It boils down to the flour. Gluten-free flour can be tricky. In my kitchen, we have done a lot of experimenting! However, in this gluten-free no-back cookie recipe with coconut, there is zero flour.
Easy Peasy Making
This is probably my favorite gluten-free savory cookie. On a hot summer day, the oven stays off. What I love about no bake cookies is that you can easily make these cookies camping or in a hotel room These decadent cookies melt in your mouth and feel sinful to eat, but they aren't!
Peanut Butter Benefits
Peanut butter has been around since only 1904. It was introduced at the St. Louis World's Fair. It was used as a protein source for World War I and World War II.
Not only is peanut butter a good source of protein, but it also contains omega-3 fats. It is a good source of vitamin E, vitamin B6, manganese, and magnesium. Believe it or not, it also has copper in it!
Peanut butter is good for your heart; it can help reduce the risk of diabetes, and it even has some anticancer properties.
Where to buy peanut butter
The best kind of peanut butter to buy is organic. Organic peanut butter doesn't have any added trans fats, sugars, or other hydrogenated oils. When those extra things are added to peanut butter, there are NO health benefits; in fact, it's the opposite. Hydrogenated oils increase omega-6s, and when you get too much of a good thing (omega-6) it makes it bad for your body and may cause weight gain along with inflammation. Yikes!
Spend the extra money and buy organic! Organic peanut butter is simply organic peanuts and salt. Please read the labels on your peanut butter, it makes a huge difference. I personally like the Costco brand, Kirkland Organic Peanut Butter. Plus, I store my peanut butter in the refrigerator.
What's up with Coconut?
Coconut is so incredibly healthy for you. These cookies have coconut oil, coconut milk, and organic shredded coconut. Coconut oil may be 90% saturated fat, but the highest in content of lauric acid, which in a twisted way can help improve the level of lipids traveling through the blood. That means it is likely it will reduce the risk of heart disease! That sounds pretty technical, but I wanted to share this with you because I eat this every day. Why not add it this gluten-free no-back cookie recipe? Here are some more coconut benefits:
15 Benefits of Coconut
1. It helps prevent heart disease and high blood pressure.
2. It can help treat Alzheimer's.
3. It BE good for the old liver.
4. Reduces Inflammation and Arthritis
5. It's antibacterial, antifungal, and antiviral! Works well on cuts and skin issues.
6. Improves energy
7. It helps the gut heal by destroying bad bacteria and that nasty Candida (yeast overgrowth).
8. Prevents Osteoporosis by helping to increase the absorption of calcium and magnesium.
9. It's Anti-aging. Now we're talkin'!
10. It helps balance hormones naturally. Now we're really talkin'!
11. Thickens hair and helps with dandruff. It's a natural hair conditioner.
12. It helps improve sleep when consumed every day.
13. It can help with environmental allergies if you rub the inside of your nose with it.
14. Speeds up the healing of sunburn.
15. It's an amazing oil to make homemade popcorn with. Just sub coconut oil in place of your other oil. Yum!
Sources: Dr. Axe, Wellness Mama
What kind to buy?
When buying coconut oil get the Virgin, Unrefined. We get our coconut oil from Costco because we go through quite a bit. If you don't have a Costco Membership, no problem! You can get it on Amazon. I highly recommend this product, especially if you use a lot of it.
Let's get to the gluten-free no-bake cookie recipe with coconut!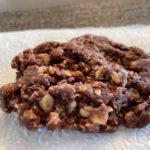 Print
No Bake Cookies with Coconut
Gluten-free, Dairy-free delicus no-bake cookies with coconut! Health snack filled with comfort.
Ingredients
1/4

cup

Coconut Oil

1/4

cup

Maple Syrup

3

Tbsp

Honey

1/4

cup

Coconut Milk

1/3

cup

Creamy Peanut Butter

1

tsp

Vanilla

2

Tbsp

Cocoa Powder

1+1/2

cup

Gluten-free Rolled Oats

1/3

cup

Unsweetened Shredded Coconut
Instructions
Get all your ingredients out and ready to go. This goes kind of quickly!

Size a sheet of parchment paper or wax paper over a cookie sheet.

With a food processor or handheld pulser, process the oats with a few good pluses. This makes the oats easier to chew and digest. If you like the oats whole, skip this step.

In a saucepan, turn heat to medium and add the coconut oil.

Slowly add the maple syrup, honey, coconut milk, and peanut butter. Using a whisk, stir the mixture.

Add the peanut butter and continue to whisk. Then add the cocoa. Keep whisking!

Bring to a slow boil for 3 minutes, then remove from heat.

Add the shredded coconut.

Using a spoon, scoop mixture onto the cookie sheet to desired size, cover with plastic wrap and put in the refrigerator.

After at least 60 minutes, remove and put cookies in a baggie for storage in the frig. Or, simply enjoy your amazing no-bake cookies!
Notes
Calories are an educational guess, this depends on how large you make your cookies. I based the calories on a cookie the size of the palm of a hand or 3-inch diameter. 
If you want to cool the cookies faster, put them in the freezer for about 30 – 40 minutes.Store cookies in the frig. for up to 10 days. 
NOTE: I experimented with organic sugar cane instead of syrup and honey, and it didn't work for me. While in the saucepan it became frothy and gave the cookies a grainy texture and burnt-like taste. 
All in all
This gluten-free no-bake cookie recipe with coconut is a perfect 3:00 pm snack at work, after school, or even for breakfast. I've been known to eat one after a workout; it's healthy, full of protein, and has just the right amount of carbs and benefits from coconut. Note, I have not tried these with almond butter or cashew butter, but I'm sure it would work beautifully. Enjoy!
Be sure to check out my other sweet treats!
All are gluten-free and dairy-free. Simple and delicious.
The Best Gluten-Free Granola Bar Recipe EVER!
Gluten-Free Molasses Cookies with Peanut Butter
Christy's Gluten-Free Chocolate Chip Cookies
By CT Copyright © 2023 Simplify Firefly. All Rights Reserved.