Gameday simple sloppy joe recipe at your service. Whether it's basketball, football, baseball, or table tennis, this is by far my favorite sloppy joe recipe. Not only is it super easy, but it has simple ingredients. It's perfect after a long day at the field, and it's excellent for watching the big game. Have a party or family get-together? These sandwiches are a great dish to serve! Try them in slider buns. Full of flavor and super easy to make.
Jump to Recipe
Come NCAA Final Four Basketball or Super Bowl Sunday, this recipe will be sitting in my Crockpot. Heck! Take this recipe to the summer cookout or the campground too! So what's in it? First of all, let me tell you what's not in it. My sloppy joe recipe doesn't have any high allergen ingredients, that's right, it's gluten-free, dairy-free, wheat-free, grain-free, egg-free, nut-free, and soy-free.
My choice of protein is venison, but if you're not a fan, go for beef. I haven't tried it with turkey (because I am allergic to turkey) or chicken, but I think it would work minus the ketchup. You'll have to experiment if you want to go the fowl route.
What's so good about venison?
Venison is open-range, free-range, organic, plant-fed protein. Venison is lean, there is hardly any fat, and it's low in calories. It's full of iron, B6, B12, riboflavin, niacin, and thiamin…essentially many B vitamins. Which are super important for your body and brain to function properly.
Oh, if you didn't know, venison is deer meat. Yes, yes, a "Bambi", but not all deer are "Bambi's". In some parts of the country, the deer have destroyed habitats for other animals by eating foliage from the ground up. It's a problem! Not to mention farmers' crops and our simple home gardens.
Beef
For this recipe, you can substitute ground beef, which is very good. But! Be sure to get the lean ground beef, like 90/10. Plus, you'll have to fork over some coins for the organic grass-fed kind. You pick, this recipe isn't picky.
Perfect sides for this simple sloppy joe recipe
As for sides, I personally like a little crunch. My favorite side is low-salt potato chips. I also like something green on my plate, like steamed broccoli, green beans, coleslaw, pasta salad, or a fresh spinach salad. Adding a slice of cheese to your sloppy joe makes it more of the meal, but I've also had sloppy joe on its own, no bun included. When I do this, I combine my joe with roasted butternut squash! So yummy.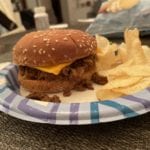 Print
Simple Game Day Sloppy Joe's
This recipe is passed down from my dad. He is a rock star at making this. And it's so delicious! Please note, my dad can only make pancakes, so if you can do that, you can do this recipe!
Ingredients
3

tbsp

Olive Oil

2

lbs

Lean burger or vension

1

large

Sweet onion chopped

About 2 – 3 cups worth

1/4

cup

Water

3

tbsp

Apple Cider Vinegar

I usually only put 2 tablespoons in.

2

cups

Catsup

I like the Simple kind without High Fructose Corn Syrup.

2

tbsp

Mustard

1/4

cup

BBQ sauce

Use your favorite. I personally like the kind that doesn't have High Fructose Corn Sysrup.

1/2

cup

Brown Sugar
Instructions
Warm the frying pan and put the olive oil in the pan

Immediately put in the ground beef or venison and brown it.

Add the onion at the same time…I know it's weird, but that's how my dad does it.

Drain any excess fat and grease.

Add the water and the vinegar

Add the ketchup, mustard, BBQ sauce, and sugar

Cover and set to high for 2-3 hours
Notes
When the sloppy joe is done, you can eat it alone or with a bun of your choice! I personally like to add cheese…in my case, it's fake cheese.Delish!
The calorie, cost, and servings are all an educated guess. 
Pull up a chair and let your Crockpot do all the cooking. This is a slam dunk, touchdown, and homerun of a game-day meal! Your kids will love it. Be sure to check out my other recipes and health tips!
Before you go, here are some of my family favorites!
Simple Bacon-Wrapped Chicken Leg Recipe
Easy Dairy-free Nachos with Simple Ingredients
By CT Copyright © 2021 Simplify Firefly. All Rights Reserved.