This is by far the BEST homemade gluten-free granola bar recipe EVER! These granola bars are actually healthy for you. There is no added sugar other than natural honey. They are also gluten-free, dairy-free, egg-free, and nut-free! My gluten-free granola bar recipe delivers chewy with a little crisp, and the chocolate chunks are amazing!
Jump to Recipe
What to know about oats
My digestive system is pretty sensitive, so I need to be careful of what I eat and how much I eat. These granola bars are oat-based. I used verified gluten-free rolled oats. If you need to be gluten-free, make sure the oats say "gluten-free". Many oats when processed can have cross-contamination with wheat and other grains; therefore, are not considered gluten-free. There are many oat-based cereals that claim they are gluten-free, but when you check out the ingredients, the oats are not certified gluten-free. Please be careful out there if you have celiacs or are super sensitive to gluten, oats might be a trigger for you.
For my granola bars I like to give the oats a little pulse in the food processor, it just helps me digest them easier. But, it's totally okay with going the full oat route. Use whatever you like.
More about oats
Oats have tremendous health benefits. They are full of manganese, which is great for bones, muscles, and tendons. It also helps reduce inflammation and regulate blood sugar. For more benefits of manganese, you can check out Healthline.
Rolled oats also have phosphorus, magnesium, and copper to name a few big ones. All and all, oats are high in antioxidants and fiber, which help in weight loss, blood sugar levels, lower cholesterol, and they're good for your heart. This grain is a good one. If you need to be gluten-free, make sure the oats say they are gluten-free.
Gluten-free granola bar recipe add-ons!
These no-bake gluten-free granola bars are not only great snacks for the family, but if you're running low on time, slab some peanut butter on them and you've got lunch! I did this today…so good. My husband prefers to put goat cheese on his. Really anything that spreads would be delicious on these yum yums.
There are a few other ingredients I want to bring to your attention. Of course, you can add a lot of different things to these, like dried cranberries, ground flaxseed, peanuts, almonds, walnuts, or diced dried apricots. If your budget allows you, definitely try dried cherries!
Recipe secrets. Shhh!
The 'No-bake" is super important for this recipe. I tried this recipe by baking it in the oven and it did not work! I actually made granola, so if you're looking for granola, just bake the recipe on a cookie sheet at 350 for 20 minutes. However, if you want true bars, melt the wet ingredients in a saucepan then mix them all together!
For my recipe, to get that extra crisp, you must add the gluten-free crisp rice cereal. Yes, this is one of my secret ingredients. Please don't tell anyone. 😊 The crisp rice really makes these granola bars come together. I use Malt-O-Meal Crispy Rice Cereal. It comes in a large bag, so if you're a fan of rice-crispy treats, you'll be all set. The only place I've been able to find it is at Walmart. It's a lot cheaper than the gluten-free crisp rice from health food stores.
Another secret ingredient is ground cloves. Don't you just love the smell of cloves? When I was little my friend, Jill, would stick an apple full of cloves and hang it in their kitchen. It smelled SO good! Cloves give this recipe a warm comfort feeling, in fact, the cloves might be the culprit of why these are so dang delicious!
One more ingredient that will make a big difference: chocolate chunks. Because of all my food sensitivities, I spend the extra money and get the Enjoy Life chocolate chunks. These chocolate chunks or chips are free from major allergens including dairy, gluten, soy, and nuts. The chucks in my gluten-free granola bars really give them amazing texture. You, of course, can use the chocolate chips or mini chocolate chips, but if you get a chance, try it with chunks!
More you should know about the recipe
The trick to this gluten-free granola bar recipe is to add enough coconut oil. Coconut is not a tree nut, it is a fruit. My son has a nut allergy, and he can eat coconut. Think of it this way, if the coconut was a nut, wouldn't the 'nut' be formed like walnut or pecan? Instead, coconut is meat that surrounds water. This, of course, is my opinion. I know some of you disagree with me. But in this recipe, coconut is not a nut. For the coconut oil, I use Kirkland's from Costco. I always have it on hand.
Coconut has a slew of health benefits. I have another recipe that lists how good coconut is for you, if you want to check it out you can find that here.
As for the sweetness of the homemade gluten-free granola bar recipe, I chose honey to do the job. There is no other sugar added to this recipe. No brown sugar, no white sugar, and definitely no high fructose corn syrup! Just all-natural honey. Now. If you want to experiment with maple syrup, go for it! There are some recipes where I put half honey and half maple syrup. I just like to try to avoid white sugar if possible.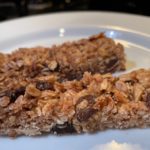 Print
The Most Amazing Gluten-free Granola Bars Ever!
Simple to make with natural ingredients, gluten-free, dairy-free, no-bake, and delicious. This is what a homemade granola bar should taste like!
Equipment
8×8 pan

saucepan

large bowl
Ingredients
1 1/2

cup

gluten-free oats

1

cup

gluten-free crisp rice (cereal)

1

tsp

ground cinnamon

1/4

tsp

ground cloves

1/4

tsp

salt

1/2

cup

coconut oil – heaping 1/2 cup

1

tsp

vanilla

1/4

cup

+ 2 tbsp Honey

1/4

cup

raisins or dried fruit

1/4

cup

nut-free roasted sunflower seeds

1/2

cup

dairy-free, nut-free chocolate chunks or chips
Instructions
Line your 8 x 8 pan with parchment paper

Pulse the oats a few times if you would like them in smaller bits…I prefer this. Otherwise, it's okay to keep the oats whole.

Grab a large bowl and put in the oats, cinnamon, cloves, and salt. Stir with spoon or clean hands. I prefer to use my hands.

Add the dried fruit, crisp rice, sunflower seeds, and chocolate chunks to the bowl. Stir.

Combine coconut oil, vanilla, and honey into a saucepan over medium heat. Stir occasionally until the mixture is bubbling. Remove from heat.

Take the honey/oil mixture and pour over the dry ingredients. Stir using a wooden spoon or spatula.

Once everything is coated with the honey/oil mixture, dump it all into the lined 8 x 8 pan. PRESS FIRMLY INTO THE PAN. This is how they stay together. Super important!

Cover the pan with foil and place it in the refrigerator for at least an hour. Two hours+ is ideal. Once formed, remove the block of mixture from the pan and cut it into bars to the size of your liking.

Store the granola bars in a Zip-Lock bag or air-tight container in the frig. for up to 7 days.
Notes
Please note the calories and cost are estimated. These would be more expensive if you went the organic route. And the calories will differ depending on the size you cut them…not to mention other ingredients you may add.
These bars are excellent on their own, but feel free to add peanuts, almonds, walnuts, or other nuts for a meater bar. You can experiment by adding peanut butter, if you do, put it in the saucepan with the honey/oil mixture. Dried cranberries, chopped dried apricots, or dried cherries would be amazing in this granola bar recipe as well.  Enjoy! 
In Conclusion
Having a teenage son and trying to get him to make wise menu options can be challenging. However, having this gluten-free granola bar recipe on hand has really helped. I hope you enjoy these no-bake gluten-free granola bars as much as my family has. Enjoy!
Be sure to check out my other sweet treats!
All are gluten-free and dairy-free. Simple and delicious.
Gluten-Free Molasses Cookies with Peanut Butter
Christy's Gluten-Free Chocolate Chip Cookies
By CT Copyright © 2021 Simplify Firefly. All Rights Reserved.