This walleye recipe is a family favorite! Not all walleye recipes are the same. If you want a clean taste with no trans fats, you're going to want to keep this great walleye recipe. Speaking of trans fats, if you missed my post about Omega, Oils, Why I'm Picky, you're going to want to check it out.
Walleye has got to be one of the best fish to fry, well Crappies are good too. But walleye is definitely a special treat. This white freshwater fish is a hot item for any restaurant. Once you've had a good walleye, you'll be hooked! Did you see what I did there?
More about Walleye
The walleye fish got its name from its eye. The eyes on a walleye are very big and they're pearlescent, which helps them see and feed at night. With that said they are a nocturnal fish. Walleye live in freshwater and are related to the perch family. They like cold deep waters…this is a fishing hint if you head out on the water. You can find walleye in the Great Lakes region, Canadian lakes, Northwest Territories, and the Mississippi River Basin.
Walleye is one of the healthiest fish. It's a great source of protein and omega-3 fatty acids, which are good for our hearts and brains. Walleye is also a good source of vitamin D. The fish has white flesh and a clean, succulent taste, it's mild and sweet perfect for frying or baking. Yum! My mouth is seriously watering now. I should mention to not eat 'walleye sushi' so to speak. Always cook walleye before eating.
Tools needed for this dish
Fillet the fish without skin. No fish skin allowed in this dish. You'll need a good fillet knife to get a smooth cut. Watch those fingers, we don't need any cuts.
After you have the fish filleted. My favorite tool for trying walleye is the good old cast-iron pan. Remember we're pan-frying not deep-frying. A regular cast-iron pan will do. Cast-iron is super easy to use. This historic cookware brings more depth to the food. Cast-iron pan cooking is actually a super healthy way to cook!
A little bit more about cast iron. Don't be afraid of it. Always use a hot pad for your hand when cooking with a cast iron pan. Never touch the handle without anything protecting your hand. As for clean-up, it's SUPER easy to clean, no soap required. Seriously, no soap, you'll ruin the 'seasoning' of the pan. You can find a variety of sizes on Amazon, even the small size works for this recipe.
Fried Walleye Ingredients
As for other ingredients for this amazing fried walleye recipe, we use coconut oil. It has a high flash point, which is great for frying. It heats up quickly. Coconut oil is a clean oil. It doesn't taste like coconut at all. Again, it doesn't taste like coconut. And it's good for you! All grocery stores should have it on their shelves, but we get our coconut oil through Costco because we go through quite a bit. If you don't have a Costco Membership, no problem! You can get it on Amazon. I highly recommend this product and encourage the Virgin, Unrefined.
For the breading, since my family and I need to be gluten-free we use a gluten-free pancake mix. I personally like Trader Joe's Gluten-Free Buttermilk Pancake Mix. We've tried Bisquick Gluten-Free too (that's dairy-free). And I should mention we also tried Potato Starch. All work well! There are some mixes specifically for frying fish, and honestly, the gluten-free mixes are better than the regular. With this recipe we only want a dusting on the fish, we aren't getting the pancake mix wet. Simply put the mix in a bowl and dust the fish with it, done!
Don't want breading on the fish? That is totally okay! Simply heat up a tablespoon of coconut oil in your cast iron pan and pan-fry the fish. Cook until flaky, salt, and eat!
Side dish for fried fish?
The star of this dish is the walleye, so keep the side dish simple. I have a great sweet potato hash recipe or go with a healthy coleslaw or kale salad. Fresh-cut green beans or even macaroni & cheese can bring the kids coming back for more. Our family favorite is the infamous broccoli/bacon salad. Please note: If you're going to have fruit, eat it while cooking your meal. You can check out this post about food combining, very interesting I might add!
What about other fish to fry?
Our second favorite fish to fry is salmon, again with the cast iron pan. The cast iron will give the salmon a nice crunch on the outside of the fish and a tender center. My Salmon in a Skillet recipe is one to check out.
Other tips for a winning walleye dinner
Who doesn't like to save money? When getting ready to fish for your walleye dinner, be sure to have your fishing license before you drop a line in the water. No one wants an expensive ticket for not having a license; you can get your fishing license at sporting goods stores or Walmart.
If you're not going to fish, watch your meat counter at the grocery store. Ask them when they'll have walleye and what day they usually get their fish deliveries. If the fish smells SUPER fishy or the package is bubbled up with air…don't eat it. You want clean fresh fish. Check out these posts on how to save money at the grocery store.
7 Surefire Ways to Save Money Grocery Shopping
Quick Healthy Meals On a Budget? 5 Criteria
On to the recipe!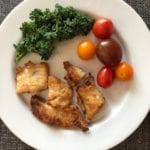 Print
Fried Walleye
Walleye fried in coconut oil.
Equipment
Cast Iron Pan

Tongs

Filet Knife

Cuttingboard

Bowl

Papertowel
Ingredients
3

oz.

Freshly caught walleye

Go by size, not weight, 1 large filet or so will work.

2

tbsp

Coconut Oil

Enough to coat the botton of the pan with a bit to spare.

1/3

cup

Pancake Mix

I use Trader Joe's Gluten-free Buttermilk Pancake Mix.

1

tsp

Salt

Salt to taste. This is optional.
Instructions
Wash fish off in cold water, pat dry with a paper towel. Carefully remove any skin from walleye with a filet knife. Please be careful.

Turn the stove on to medium heat and heat cast iron pan.

Put solid coconut oil in the pan. After it melts, you may need to adjust how much. You want about 1/4 inch of melted oil. Do not let the oil smoke…this is too hot!

While the pan is slowly heating up. Place fish into the pancake mix and dust all sides.

Slowly insert dusted fish into the hot cast iron pan. The oil should sizzle.

When you see the outer edges of fish start to brown, about 2 minutes; flip the fish with the tongs gently and cook for another 90 seconds to 2 minutes.

Turn off the stove and transfer cooked walleye to a plate covered with a paper towel.

Salt the fish to your liking.

Eat within a few minutes.
Notes
Calories are an estimate. Walleye is 79 calories per 3 ounzes. Consuming raw or undercooked meats, poultry, seafood, shellfish, or eggs may increase your risk of foodborne illness.
This recipe is also great without the pancake mix. Feel free to fry without breading. 
Before you go
Good eats don't stop at fried walleye. Check out my other delicious and surprisingly gluten-free recipes! Simple ingredients, lots of flavor, and nutrition. You'll learn about the ingredients and how to prepare an amazing treat.
Simple Bacon-Wrapped Chicken Leg Recipe
Christy's Gluten-Free Chocolate Chip Cookies
By CT Copyright © 2020 Simplify Firefly. All Rights Reserved.