The bacon-wrapped chicken leg recipe is a tailgate show stopper. This recipe is also a hit at summer barbecues, picnics, and Super Bowl parties. With only two ingredients this dish is super easy to make and fun for the kids.
Jump to Recipe
Bacon + Chicken?
Bacon marries well with anything, and chicken is a top 5 bacon-lovers mate. Move over salmon BLT, here's come the chicken leg! When it comes to making this recipe involve the kids. Wrapping the bacon around the chicken leg is a lot of fun and easy to do.
Even though there are two ingredients, make sure you buy high quality chicken and bacon. The cleaner the chicken the better tasting and texture, same with the bacon. I opt for the organic chicken and nitrate-free bacon.
Added bonuses to the bacon-wrapped chicken leg
My husband has played around with putting chicken seasoning on the chicken before the bacon is wrapped around it, I personally don't think it needs it. With this recipe, you're open to experimenting. You might even like to play with a little barbeque sauce. Yum!
Special chicken leg tool
You will need a tool to make this all happen. Get on Amazon and buy a chicken leg rack. We have this one, which we bought on Amazon. You can use it in the oven or on the grill. We have used it in both environments. It's a good buy and a necessity for this recipe.
The perfect sides and finishing touches
My only advice when eating bacon-wrapped chicken legs is to have a toothpick handy when you're done; not to mention, a napkin or hand wipe. They may get a little messy, but who cares! Your family and friends will enjoy this recipe. If there's bacon, they will come.
Great side dishes to serve with bacon-wrapped chicken legs depends on the season. If it's summer, I'd go with an amazing potato salad and watermelon mint salad. For game day, I'd choose some fancy potato chips and veggie sticks with dip. If you're having this dish for dinner, go for some fun garlic noodles, steamed broccoli, and red grapes. Another great healthy choice is to make my warm kale salad, this dish is nutrient-dense!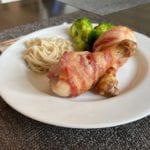 Print
Easy Bacon-Wrapped Chicken Legs
This simple chicken recipe is a family favorite! It has bacon… Only two ingredients and not that high in calories!
Equipment
Chicken Leg Rack

Meat thermometer
Ingredients
6

Legs

A package of chicken legs

Skin on is fine. Spend the extra dollars for a higher quality chicken. It makes a big difference.

1/2

Package

Bacon

Any bacon will do. Again, to be healthier, choose a low sodium bacon or preservative free.
Instructions
Preheat oven to 350 degrees and get your chicken rack ready.

Take the skin off the chicken legs

Grab one strip of bacon and wrap one chicken leg. Start at the bottom of the leg and work your up to the top. You might be able to tuck the bacon into a bacon row.

Continue to wrap the rest of the chicken legs and put them in the Chicken Rack.

Bake or Grill the bacon wrapped chicken legs for 40 minutes or until the internal temperature is 165 degrees.

Check the internal temperature of the chicken, remember it's to be 165.

Let the chicken rest for a few minutes then DIG IN!
Notes
Calories are an estimate per bacon-wrapped chicken leg. This is an amazing tailgate snack. My teenage son loves these things, he'll eat four! Serve with some greens, potato salad, pasta, or broccoli and you've got yourself a meal!
Wrapping it up! (get it?)
We took this recipe to a tailgate for a college football game and let's just say the chicken was gone in an instant. So if that's your plan…to take it to a game…you may want to get two chicken leg racks!
FYI- My son is known to put the leftovers in his lunch. Yes, bacon-wrapped chicken legs are good cold too! Another great lunch option for the kiddos. Enjoy!
Be sure to check out my other simple and delicious recipes!
Simple Bacon-Wrapped Chicken Leg Recipe
Simple Game Day Sloppy Joe Sandwiches
By CT Copyright © 2021 Simplify Firefly. All Rights Reserved.