Try this amazingly simple grain-free pasta salad recipe. Only seven ingredients and easy to make. Plus it has bacon! I love this recipe because it is versatile. Going gluten-free is hard enough, but grain-free is even more challenging. The beauty of this grain-free pasta salad recipe is that you can have for the main meal, use it as a Meatless Monday recipe, or you can serve it as a side dish to your favorite protein.
Jump to Recipe
What's so good about grain-free?
Let's face it, grains can give your body inflammation. Yep. There is something about the grain that can wreak havoc on your digestive system, allergy response, skin, and even mood! If you have IBD, colitis, IBS, or Crohn's disease, going grain-free might help your situation.
Chickpea pasta is simply chickpeas. There are no grains involved. My family uses Banza Rotini. The last time I looked, it was still available at Costco. Otherwise, you can look in your local grocer or get it online.
Some chickpea nutritional facts include being an excellent source of manganese and a great source of folate to name the top two. Manganese is important for your bone health, nerves, and is good for your thyroid to name a few. Folate is super important for red blood cell formation and healthy cell growth and function. It also helps reduce the risk of Alzheimer's disease and lowers blood pressure. Chickpeas in general are a good source of plant protein.
Chickpea benefits
Some great chickpea benefits include helping to control blood sugar levels. They also help with weight loss by helping you feel full and to curb your cravings. Chickpeas are full of fiber which helps with digestion and to keep things moving! There are more benefits that you can find at Dr. Axe.
Grain-free Pasta Salad Recipe Go-to's
This pasta salad recipe is awesome for lunches, camping meal ideas, main dishes, and side-dish. My family enjoys it with roasted chicken. Serve it warm or chilled, you could even add a dollop of hummus on top! This is a kid-friendly dish, meaning, there are not super bold flavors. Yet, you can make this dish you own by adding your favorite ingredients like diced cucumbers, cherry tomatoes, olives, or avocados.
Let's get to the recipe!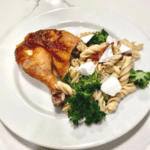 Print
Versatile Grain-Free Pasta Salad
Simple, delicious, and nutritious Grain-Free pasta salad recipe. Easy to make, only 7 simple ingredients, and a great side dish to compliment any protein. Serve alone as a "Meatless Monday" dish. This recipe gives you the flexiblity to be creative!
Ingredients
2

cups

Banza Rotini Made from Chickpeas Grain-free Pasta

1/2

package

bacon, cooked and chopped

1 1/2

cups

chopped broccoli

3

tbsp

olive oil

1/2

cup

Greek salad dressing, your choice, but prefer "Ken's Simply Vinaigrette Greek"

3/4

cup

feta cheese or non-dairy feta cheese

1

tsp

salt to taste
Instructions
Boil pasta in a large saucepan and cook until noodles are soft. Drain pasta and wash cold water over it. Dump cooked pasta into a bowl.

Lay bacon strips on a lined cookie sheet and bake at 350 for 20 minutes. Remove cooked bacon and blot with paper towels, then chop into smaller pieces.

Chop washed broccoli. You may either leave broccoli raw or you can steam it, your choice.

Add broccoli and bacon to the pasta bowl and toss.

Add olive oil and salad dressing then toss.

Sprinkle salt on top, and add feta cheese. Tossing is optional.
Notes
This gluten-free pasta, grain-free pasta, is an excellent source of protein. It's a fantastic main meal or side dish. Add tomatoes, olives, or diced avocados to make it your own. Use any kind of pasta to make for your family. Simple, delicious, and good for your body. Serve it with roasted chicken and you've got yourself a meal. 
Hope you enjoy this amazing recipe. I know your body will love you for it. Be sure to check out my other great gluten-free recipes to go along with this dish!
Simple Bacon-Wrapped Chicken Leg Recipe
Simple Game Day Sloppy Joe Sandwiches
By CT Copyright © 2021 Simplify Firefly. All Rights Reserved.