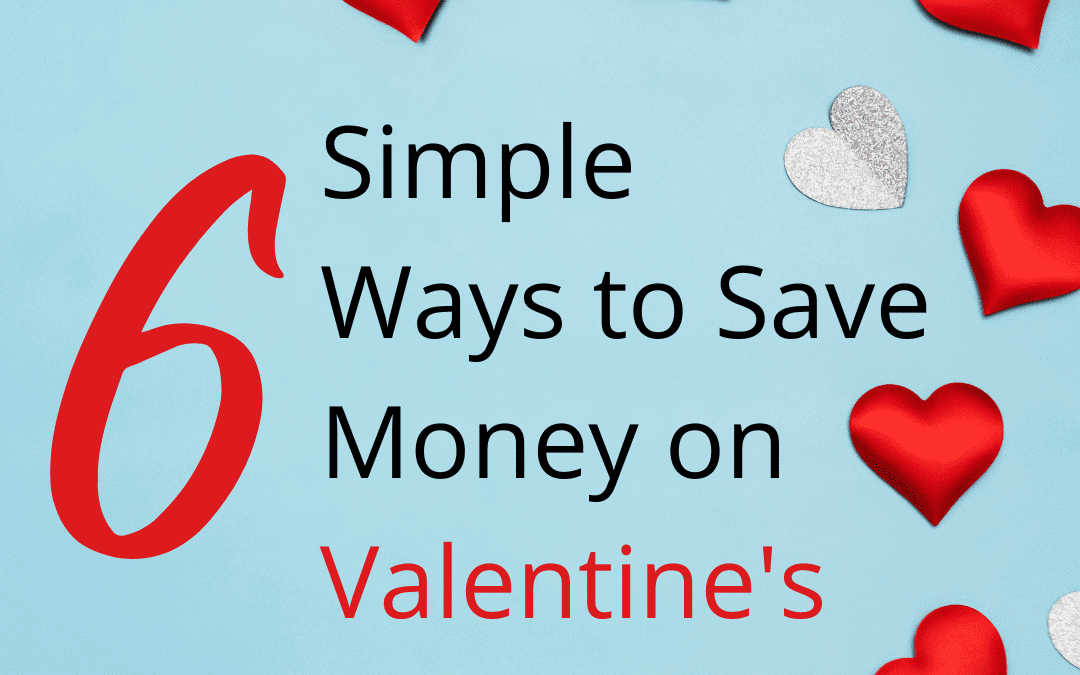 Let's save money on Valentine's Day this year. You'll get my 6 simple ways to save money on Valentine's Day along with a little history about February 14th. Explore my simple and inexpensive gift ideas for you, your family, and your friend; but first I gotta tell you what I learned about this 'loving' holiday, it certainly surprised me!
Valentine's Day originated from a Roman festival. It had nice intentions of celebrating the coming Spring. Because as we know, with Spring comes rebirth. The Romans capitalized on this season and promoted fertility at this time. Side note; if you have a November birthday, your parents probably practiced the Roman tradition. LOL! Anyway, what I didn't expect was a dark side to this 'lovers' holiday.
The Dark side of Valentine's Day
This Roman festival included, what sounds like, arranged marriages by a lottery. Say what? All I can picture is taking a ticket at the meat counter and waiting for someone to call my name and hope and pray I was attracted to him. This does not sound very romantic, but they did it!
And according to legend, there was a priest whose name was Valentine. The story isn't clear of whether the priest secretly married people behind the emperor's back to spare men from war, or if the priest signed a letter to a jailer's daughter "from your Valentine" which created havoc. Either way, the emperor, Caludius II Gothicus, martyred him! Yes murdered the guy named Valentine.
As for cupid, he represents the Roman god of love. Are you as confused as I am? This holiday is messed up, murder, love, lottery, and a naked baby with a bow n arrow. The Romans back then had some mental issues.
What We're Spending
I get it that we're celebrating this guy, Valentine, but "Be My Valentine" or "Will you be my Valentine?" sounds weird to me now that I understand the back story. Frankly put, these days, retailers use the holiday to get more business. In 2019 53% of all Americans spent a grand total of $30 billion. Heart-shaped candies and decadent chocolates get me all the time, but I spend maybe $25- $50 on Valentine's Day, that's including dinner. However, the average person spends about $225 on one person. There is nothing wrong with that. Your significant other's love language may be 'gifts'. But if you're on a tight budget there are other ways to go about showing your love.
Save Money on Valentine's Day with Simple Ideas
The Card
The average cost of a Valentine's card is $4.99. That can add up with kids and even pets. Yes, they have cards for pets. Three kids alone plus a dog could cost $20. Ouch. Here's a different idea, back in the day, my husband and I were strapped for money, and so instead of buying each other a card, we took a picture of the card in the store then shared the pictures with each other. I know that sounds lame, but it was actually quite fun. There are many benefits to this: it's inexpensive, saves the environment, and you can keep it on your phone forever! In fact, if you found more than one perfect card, you can take a picture of that one too!
As for kids, homemade Valentine's are the best. Any kind of gift made with our very hands means so much more than something you buy. Download these Valentine's joke valentines for kids from my Etsy Shop!
The Gifts
Unless it's your birthday on Valentine's Day, big gifts are out, at least in our home. Money doesn't buy love. Time does. Time with your spouse, friend, kids, and pets says a lot more than the latest video game. What are they going to remember more? The gift and who got it for them? Or will they remember the memory of playing Battleship and Clue and the epic popcorn-launch-in-your-mouth game? Actually, the Game of Clue might be appropriate for Valentine's Day…remember Roman times? Here's my skinny on gifts and what we do in my family. Candy.
The Candy
Candy is instant, enjoyable for everyone, and easy. Get whatever is their favorite sugar bomb. I know it's not the healthiest, but skip dessert and have the candy instead…don't forget portion control. My son loves those Sweetart Hearts, my husband is all about Nerds, and me, well, my hands-down favorite of all favorites is See's Candies. Seriously, these are the best chocolates I've ever had. AND they are gluten-free! If you don't have a retailer near you, you can order online, believe me, it's worth it. They are SO good!
The Flowers
If candy isn't your thing, flowers do make a great gift. Here's the kicker. Keep the flowers simple. They don't have to be red roses. The jester is what counts. Recently, my husband stumbled upon white roses at Trader Joe's. He got a dozen for like $7.00. Can't beat that, and they lasted a long time. They were beautiful. Thank you Trader Joe's! The other option with flowers is to go for the carnations. They are a simple flower that comes in a variety of colors. A large bouquet is about half the price of a dozen roses (roses not from Trader Joe's). I personally like to mix carnations and roses together like in this picture.
The Touch
Besides the gift of time, sweet treats, and flowers, touch is just as important if not more. Touch is another language of love. It's definitely my husband's. Intimate time with your spouse or boyfriend is probably all they want for Valentine's Day. Stop spending your money on other things, just give him some lovin'. As for kids, snuggles or tickle attacks while watching "Be My Valentine Charlie Brown" serve the best of both worlds for the child and mom/dad. Feel goods with hugs and laughs with tickles are a joy to the heart.
Save money on Valentine's Day dinner
Let's talk about dinner. If it's just your spouse/friend with you, you'll spend an average of $50 at a restaurant. And don't forget to tip! Oh, did I mention the babysitter? As for time, Valentine's Day is one of the busiest nights at restaurants. You may have to wait for a table. I didn't even mention traffic or the weather.
A different option is to have a candlelight dinner at home. This saves time and is a great way to save money on Valentine's Day. I know it may sound boring, but that's up to you. Dress up, get some music playing, and have your kids wait on you and play restaurant at the same time. It's something different to try this year.
At the grocery, you'll spend at least half of the amount on a meal than at the restaurant. Get some steak, salad, and garlic bread. Start up the grill and "By the Power of Grayskull, I HAVE THE POWER!" Yes, I have dated myself with He-Man. Dinner at home can be fun for everyone! Save money grocery shopping too, check out my tips here!
Final Tips for a Great Valentine's Day
Lastly, decorating with construction paper hearts tapped on the sliding glass door gets everyone in a loving mood. This is an easy way to save money on Valentine's Day. You don't need to go all out with decorations. Keep it simple. It's a gentle reminder that Valentine's Day should be fun and not filled with a martyr. Now, don't forget the chocolate! For more ways to manage money, be sure to check out my post on No More Money Problems.
Before you go, check out these other great posts:
By Christy Copyright © 2020 Simplify Firefly. All Rights Reserved.